About Joe Cozzo
How TJCS got started..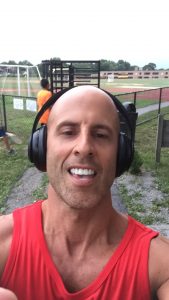 After majoring in Radio Broadcasting at Long Island University back in 2000, I interned for a few stations, most notably the 'Mike and the Mad Dog Show' on WFAN with Chris Russo and Mike Francesa. From there, I truly fell in love with radio. However, there was no such thing as a podcast back then. If you wanted to break into radio back then, you better be prepared to move to Iowa or Indiana to start out.
I was also doing stand-up all over Manhattan and taking acting classes at HB Studios in the West Village. I was going on auditions with my black and white headshots, doing stand-up, and interning at my favorite radio station. Life could not be better.
After graduation, I decided to move to LA. I thought why stay in the cold NY when I could be doing the exact same thing in beautiful weather. I remember going on AOL and searching for apartments and there was palm trees all over the place. If you remember AOL's dial-up-service, then you remember how long it took one picture to download!
I put $300 down on an apartment in Burbank, CA, and my move in date was in two months.
So there I was, LA dreaming, ready to conquer the world. There was absolutely no doubt in my mind that I was going to crush it in Cali. I was young, in shape, funny, and single.
Have I mentioned how great my life was yet?
I had approximately one month left in NY when I was told some 'shocking' news. A former girlfriend of mine was pregnant, and guess who was the baby daddy?
I was so fucking excited. I didn't have to go to LA in that beautiful weather, I didn't have to dream about becoming a movie star or doing stand-up at Madison Square Garden. I was having a baby with no job, zero savings, and now was able to stay in my parents basement without windows!
I have mentioned how great my life was, right?
Obviously, having a newborn to care for, I didn't think that would be a wise decision to move. Therefore, I had to do something else for a while, make some money, get back on my feet, and then get back to the mic.
I had to set my radio dreams aside and decided to attend Law School. After successfully passing the NY Bar Exam (i have no idea how i did it), I worked as a prosecutor at the Suffolk DA's Office on Long Island. After a few years as a prosecutor, I decided to start my own practice (cozzolaw.com), make some money, and get back on the mic!
My daughter is without a doubt the love of my life. Looking back now, I would not have changed a thing. 
I've been hosting The Joe Cozzo Show since 2015. It's a show about my life, helping others achieve their goals, and being brutally honest.
Once again, life couldn't be better.
Cheers!
Joe Cozzo